3 Baby Loss and why it is different from any other loss
BABY LOSS ENGLISH PODCAST POST TRAUMATIC GROWTH
Why losing a baby is different from losing a spouse, a parent or another loved one?
I'm exploring this topic in Episode 2 of the Heal Your Heart Podcast.
My mission is to help you to understand your thoughts and feeling and to be able to find the words to express yourself with others. I'm also talking about the unique challenges that come with losing a baby like others people's reactions.
You can share this with your friends and family, who might need some help to understand you.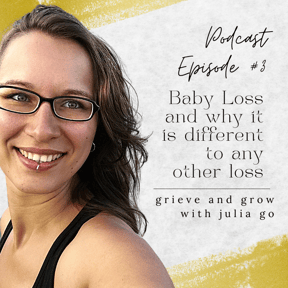 If you want to love yourself and your life again, even after the loss of your baby, I invite you to sign up for my free training.
Featured on the Show:
Interested in healing and coaching? Click here to apply.

Join my free Facebook group

I send out several pick-me-up emails each week including announcements and details for free live coaching sessions. Enter your email here.