4 Baby Loss and the Time After Losing Your Baby
BABY LOSS ENGLISH PODCAST POST TRAUMATIC GROWTH
In Episode # 4 of the Grieve and Grow with Julia Go Podcast I'm talking about the first period of time after losing a baby.
I'll cover numbness, searching and longing, thoughts and feelings and especially the questions we ask ourselves, and how to cope with those.
My mission is to help you to understand your thoughts and feeling and to be able to find the words to express yourself with others. I'm also talking about the unique challenges that come with losing a baby like others people's reactions.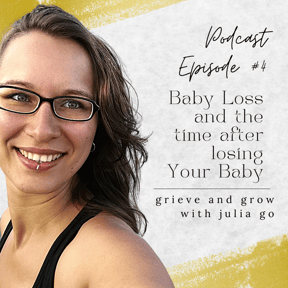 If you want to love yourself and your life again, even after the loss of your baby, I invite you to sign up for my free training.
Featured on the Show:
Interested in healing and coaching? Click here to apply.

Join my free Facebook group

I send out several pick-me-up emails each week including announcements and details for free live coaching sessions. Enter your email here.